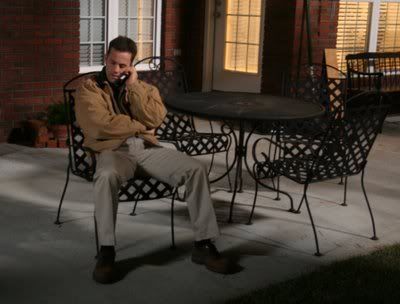 Do you recognize this photo??
Well -- this is a scene from the movie
FIREPROOF
.
The jacket
is up for bid on E-bay.
Here is the story, as told by the
FIREPROOF folks on their blog.

AFR morning man JJ Jasper was on the set. One of the evening shoots included a scene where Caleb Holt goes outside to call his father. As is wont to be the case in late autumn, it was pretty chilly that evening. After a few takes, Kirk Cameron mentioned how cold it was getting. JJ graciously offered up his jacket and sure enough, that is what Kirk is wearing when he makes a key phone call.

Afterward, Kirk signed the inside panel of the jacket. Now, the jacket is available on eBay! And best of all, the full amount of the purchase price goes to AFR, the commercial-free radio network, which is in the midst of their Sharathon. The jacket auction lasts until early Saturday morning.

So, here is your chance get a piece of FIREPROOF ... and a nice jacket to boot! (btw: get well soon, JJ!)
I'm going to watch it for sure... I think the bidding has already blown my clothing budget for the month LOL But it will be interesting to see how high it goes. Let me know if you win it. °Ü°
p.s. The movie FIREPROOF is still open in 100 theaters across the country. It has been in the top 10 for the last 3 weeks. Amazing how a CHURCH produced movie is competing with these HOLLYWOOD movies.
p.s.s. Final bid... $2500. Wowza